Swiftwater and Flood Rescue Tech 1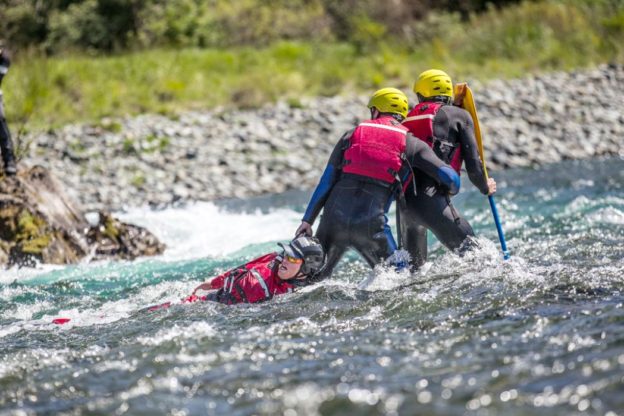 The Swiftwater and Flood Rescue Tech 1 class is a great class for personnel wanting to meet guidelines set by the National Fire Protection Association (NFPA) 1670 Standard and the NFPA 1006 Standard at the Operations Level for water. This course provides rescuers with the fundamentals of survival in moving water and is recommended for anyone who may be called upon to effect in-water rescues. Students gain knowledge in hydrology and river classifications, size-up, site control and scene management. Practical skills include self-rescue, swiftwater swimming and the fundamentals of shore, boat and in-water rescues. Additionally students are introduced to the basics of boat handling and the fundamentals of rope rescue including mechanical advantage and anchor systems. The Swiftwater and Flood Rescue curriculum is specifically designed for fire fighters, rescue teams and professional rescuers who need the best swiftwater rescue training available!
The swift water rescue training is very active in the water and is suitable for rescuers with no water rescue experience. This water rescue course also offers experienced rescuers the opportunity to develop their skills and push their personal limits on and off the water with realistic rescue scenarios, self-rescue challenges, and many hands-on interactive rescue scenarios and experiences.
This water rescue class is the first of two classes needed for personnel to meet the requirements for the Technician level NFPA 1670 Standard on Operations and Training for Technical Rescue Incidents and the NFPA 1006 Standard for Rescue Technician Professional Qualifications in the area of water. Sierra Rescue also offers California State Fire Marshal certifications and Rescue 3 International certifications. To learn more about the difference, click here.
Frequently Asked Questions:
Looking for What to Bring to the course? Please click HERE.
Looking for camping/lodging recommendations? Please click HERE.
Our standard class times run from 8:30AM – 5:30PM. Upon registration, you will receive a confirmation email with the specific times for your course.