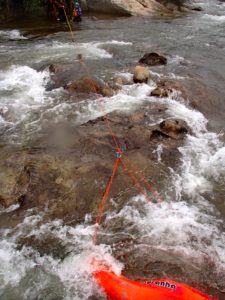 Clearly we are proponents of swiftwater rescue, not only because it is our livelihood, but because we believe that a well-trained boaters correspond to safer boaters, and safer boaters are less likely to need rescue. See the cycle? We are avid proponents of prevention. The best rescue is the one that never has to happen. Stay on top of your swiftwater skills, and better than than that,  train with the people you paddle with.
At Sierra Rescue we offer custom courses just for you and your boating group. Our River Rescue Certification (RRC) has had great success in the last 5 years and we have taken it a step further to offer the RRC-K; River Rescue Certification – Kayak Specific. In the course we take the basic RRC format and put a kayaker's spin on it. It involves the same hands on scenario-based training, but emphasizes boat-based rescue  and self rescue for a kayaker, advanced pins and entrapments, and rope techniques using the gear in a personal pin kit. Running scenarios with the people who have your back on the water not only helps prepare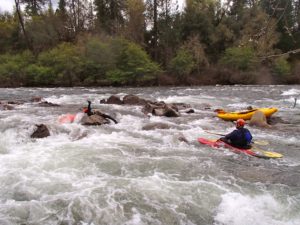 the group for those "what ifs," but lets you problem solve with one another and see each others rescue abilities.
Last year we taught numerous RRC-K with great response. Students really seemed to enjoy responding to scenarios from their boats, and and being able use the benefits of a kayak in a rescue. This article, written by CCK instructor Bryant Burkhadt, touches on the progression of swiftwater rescue training and the importance of continued training while discussing the benefits of a kayaker-specific course for boaters.
http://playak.com/news.php?idd=2337568845922
Thanks Bryant, see you on the water.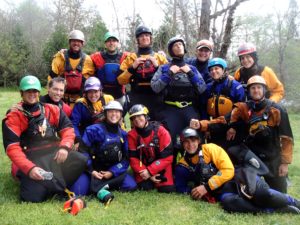 Post by: Zach Byars, Instructor