River Rescue Certification Advanced-RRC ADV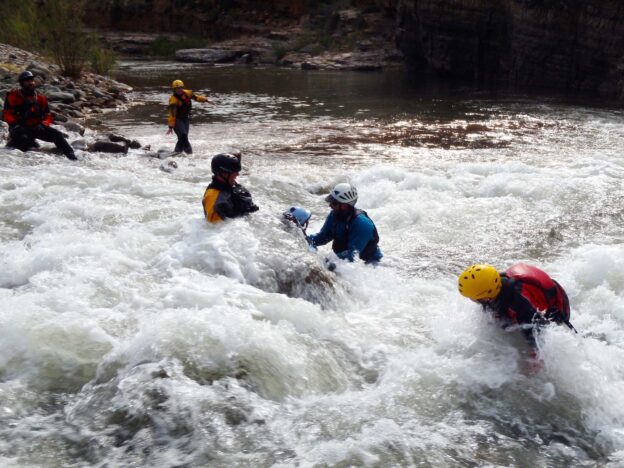 The natural progression for someone who has already had either the RRC, or another formal rescue based training. This starts where your first course left off! Very little of your original RRC training will be repeated. This allows for you to build upon a skill set that you already have! It is a scenario based course designed to develop the ability to choose good actions when a river rescue is necessary This course builds on the skills of the RRC with more scenarios, additional scene management challenges, more complicated entrapment rescues, evacuation, and additional rope skills.
This energetic, and physical curriculum will be challenging and focused on quick reaction time with a thorough understanding of options and resources. This class will also meet the requirements for the ACA Level 5 Swiftwater Rescue Certification as well as the Rescue 3 International WRT Pro or Advanced certification.
Students taking this course MUST meet the following general requirements:
– RRC or other formal Swiftwater Rescue Course completed within the last three years
– Defensive and aggressive swimming understanding and ability
– Competence and an understanding of:
—- swiftwater rescue access options including wading, swimming, live bait options
—- throw bag skills using both ends of the throw bag
—- rescue knots and hitches, including figure 8, water knot, munter hitch, butterfly and prussic
—-basic mechanical advantage including 3:1 and vector pulls
—- self-rescue techniques
—- rescue progressions including upstream spotters, downstream back-up, leader, rescuer, medic
—- LAST: Locate, Access, Stabilize, Transport
—- stabilization in entrapments including hands on stabilization and stabilization line
– Safe river travel including risk assessment and downriver travel safety
If you are wondering what skill set you should have before attending the ADV, check out http://www.rescueforriverrunners.com video series! It is fantastic and a great way to review anything you may be rusty on!