River Rescue Certification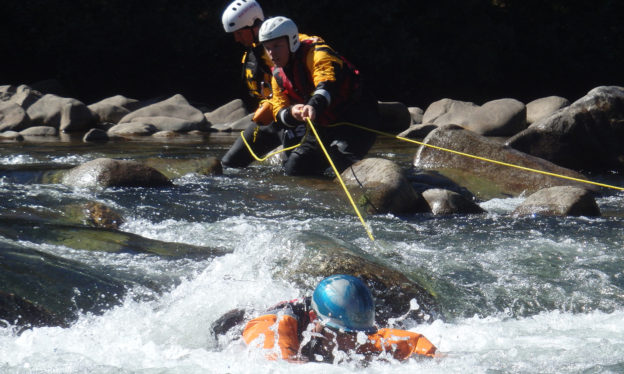 A DYNAMIC water rescue course specifically written and designed for private boaters, kayakers, professional river guides new to rescue, and non-profit organizations.  Emphasis is on identifying hazards, thinking through rescues and on RESCUE itself; both of self and others. This is the class you want as a boater to stay safe and know what to do if something goes wrong. This is an American Canoe Association ACA Level 4 Swiftwater Rescue course.  Although this course meets agency Swiftwater Rescue certification requirements for river guides and kayakers; its pace allows for thorough integration of knowledge and practice of the skills that matter.  The two day format makes the course more affordable and accessible.  This course should be a prerequisite to anyone boating on any river anywhere!  The course addresses the river rescue needs of rafters, cat boaters, kayakers, pack rafters, canoeists, riverboarders and SUP paddlers.
STUDENT REQUIREMENTS:
Students should expect and prepare for the elements with proper thermal protection for being in the water, adequate dry, warm clothing; and food and beverages emphasizing sugars and carbohydrates. This is a dynamic and engaging curriculum and will require a full two-day commitment with homework at night.
Observation or participation in all of the activities and a co-signed skills check-off sheet are required to receive the certificate of completion. If a student feels uncomfortable about participating in any activity and simply wishes to observe, the Instructor should be advised. Knowing your own limits is essential to be a safe boater and rescuer; and is highly respected by our Instructors.
This class meets all requirements for the ACA Level 4 Swiftwater Rescue Certification.
**If you're a river guide or kayaker and received your RRC certification, you can upgrade to the Professional River Rescue Certification.