One of the greatest things about being a co-owner of Sierra Rescue, are the incredible folks that we get to work with.  Although Abigail and I are the only employees of Sierra Rescue, we get to work with the absolutely most INCREDIBLE Independent Contractors, and have an amazing Sierra Rescue family that extends beyond National and International borders.  Our network of folks that we talk with, work with, and are friends with makes me one of the luckiest people in the world!
Here is a quick check in on where some of our amazing affiliates are, and what they are up to right now.
Zach Byars is on one of the most incredible journeys of ALL!  Lila Marie Byars was born a couple short weeks ago, and is already in training as the next generation!  Zach and Tessa have moved to Ventur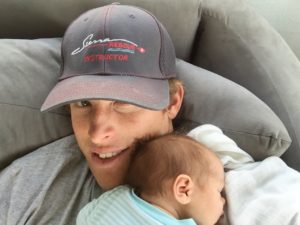 a, and Tessa is now a very important part of Patagonia https://www.patagonia.com!  A Company we believe in and support 100%.  Although Zach is very happy to be at home now, he is getting out next week to teach an Awareness course sponsored by a UASI grant, http://www.sandiego.gov/fm/annual/pdf/fy14/vol2/v2ohs.pdf, to help keep the folks down in San Diego County more safe!  Congratulations Zach!
 Don Lester  After teaching a Wilderness Medicine https://sierrarescue.com/course-info/wilderness-first-aid-courses/ and Whitewater and River Rescue https://sierrarescue.com/course-info/swiftwater-rescue-courses/ Instructor course for our Malaysian affiliate, Nomad Adventures nomadadventure.com and Rescue 3 Asia http://rescue3asiapacific.com over near Kuala Lumpur, Don is currently exploring the islands off the coast of Indonesia, with his wife Theresa!  As I write, they are most likely Stand Up Paddleboarding  around the Island of Komodo checking out the Komodo Dragons.  Don will be back in February to start a full season of teaching!
Jessica Stoll is usually in Chile at this time of year working with the incredible Long Family! http://cascaderaft.com.  Tren, Chad and Kenneth, who are also Rescue 3 International and Sierra Rescue Instructors, are currently training for the OLYMPICS!  Yes, it is true!  OC1 and OC2
Tren, Chad and Kenneth can be supported at their Facebook page. https://www.facebook.com/longfamilyracing/
Jess is currently working at Sierra At Tahoe http://www.sierraattahoe.com as a ski patroller in preparation for Paramedic school this summer.  Today, she is in Angels Camp teaching a WFR recert to OARS www.oars.com Grand Canyon guides. As always, she is permanently smiling and loving life!
In other news!  Aaron Root is just back from a pack rafting expedition with the owner of Salt River Rafting http://www.raftingsaltriver.com,  James, and will be back with us this month, and out on the Salt River during the AWESOME season that is happening out there.
Abigail and I are headed to New Zealand to reunite with one of our favorite people in the WORLD! Rachael Moore!  Rachael works to keep New Zealand rivers safe, and keep the river guide requirements in New Zealand some of the best in the world!  Can't wait to see you Rachael!
More coming soon on other Sierra Rescue https://sierrarescue.com/about-us/our-instructors/ and Rescue 3 International http://rescue3.com Instructors!