NEW!! River Rescue Certification for the Professional
What is the River Rescue Certification-Pro (RRC-Pro)?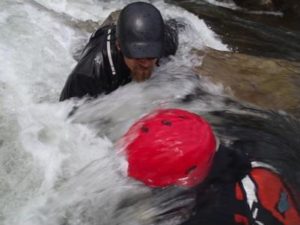 RRC-Pro: An Internationally recognized water rescue certification that is written for Professional BOATERS, by Professional BOATERS. It is a fast paced, scenario based rescue course designed to develop the ability to choose good actions when a river rescue is necessary. This curriculum is for river guides and kayakers that spend a good portion of their lives on the river in a professional capacity, and therefore have a solid base of boating and basic rescue skills already. This energetic, and physical curriculum will be challenging and focused on quick reaction time with a thorough understanding of options and resources. The rescue skills testing component will emphasize knowing your own limits, skill level, knowledge of basic rope skills and the ability to execute a rescue as part of a team. The challenges of responding at night are highlighted in the night op. The task book at the end lays out easy ways to keep your water rescue certification current with continuing education and testing day options. This three day, intensive and comprehensive course takes professional rescue certification for the professional boater to a whole new level.
How does it differ from the River Rescue Certification?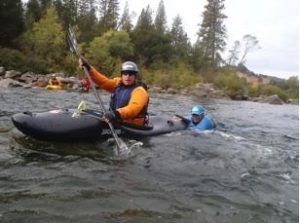 RRC: A DYNAMIC water rescue course specifically written and designed for private boaters,
kayakers and non-profit organizations! Basic river skills are a prerequisite! Emphasis is on identifying hazards and on RESCUE itself; both of self and others. Thinking through rescues is also emphasized. This is the class you want as a boater to stay safe and know what to do if something goes wrong. Although this course meets agency Swiftwater Rescue certification requirements for river guides and kayakers; its pace allows for thorough integration of knowledge and practice of the skills that matter. The two day format makes the course more affordable and accessible. This course should be a prerequisite to anyone boating on any river anywhere! The course addresses the river rescue needs of rafters, cat boaters, kayakers, pack rafters, canoeists, riverboarders and SUP paddlers.
Who:
This curriculum is owned and developed by Sierra Rescue and is also certified and accredited by Rescue 3 International. While Sierra Rescue writes and updates the workbook, all Instructors contribute to its writing and maintenance.
Mission: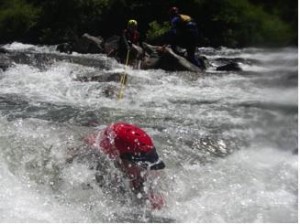 To provide a professional river rescue certification program that is engaging, exciting, challenging, fun and affordable for all participants, with a strong emphasis on safety and prevention of accidents; as well as appropriate response to a whitewater rescue emergency.
To be the best river rescue certification course available to professional river guides and kayakers world wide.
How:
All Instructors are well respected river professionals, as well as certified Rescue 3 International Water Instructors. The background in working with Agencies will assist in the interaction between the river rescuers on scene and the Agency personnel that may be needed to assist if medical attention is needed, or the river runners are unsuccessful in the rescue.
What is different from the RRC?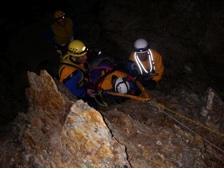 • The pace and intensity of the exercises. Everything in this rescue class will be designed to challenge folks that spend a good percentage of their time on the river. The physical exertion in the class will be much higher.
• Three days instead of Two days
• The addition of a night operation. It is important for river professionals on overnight trips to be able to respond in the dark. Understanding the challenges, and how to organize for success is critical, as well as knowing what extra items need to be on hand. This evolution may be a search, a swim, or both. It will be up to the Instructor based on the location of the rescue course, the weather, and the river flows.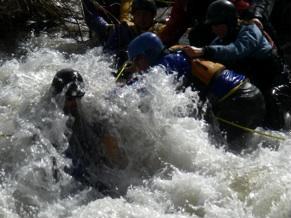 • The addition of skills and performance evaluation. The objective here is to gain an assessment of a students ability to actually "perform" rescue skills. These include good access and assessment skills, as well as the ability to stabilize a scene and evacuate a patient. Emphasis is on both the actual skill set, and the students ability to know their own strengths and weaknesses; as this is what will be crucial in a water rescue.
This section will include swimming, self rescue into a boat, throw bagging, basic rope skills  and the ability to operate as part of a team.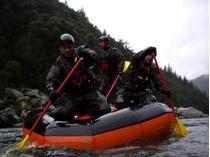 • The addition of a task book for re-certification and continuing education. The addition of the task book allows for constant re-certification through a variety of options including some on-line training, workshops, and yearly one day updates and refreshers. This will be very clearly defined in the rescue course and in the back of the workbook.
Who teaches it?
The Instructor requirements are extremely tough and require many years experience in both commercial and private boating, as well as professional rescue instruction. The following organizations are currently the only authorized providers:
Sierra Rescue – California, Nevada, Arizona: Julie Munger, Abigail Polsby, Don Lester and Zach Byars
Great Northern – Montana: Carl Motes-Connors
Mad River Boat Trips – Wyoming: KC Bess
Cascade Raft and Kayak – Idaho: Tren Long
Wet Planet – Washington and Oregon: Jonathan Blum
Jonathan Blum Rescue: Jonathan Blum
Nantahala Outdoor Center: Will Norris and Stephan Hart
Mather Rescue: Mike Mather
Rescue 3 Southeast: Todd Sanders
Raven Rescue – Canada: Ron Morrison & Jim Coffey